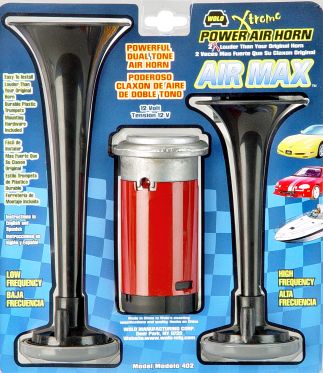 402 air max™
dual tone air horn
118 decibels-620/740 hz
perfect for all 12 volt vehicles.
kit has two (2) durable black
plastic trumpets and our new
compact maintenance free compressor.
comes complete with all mounting
hardware, easily installs in any vehicle.
instruction in english / spanish.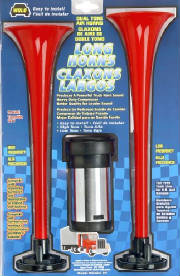 417 LONG HORN™
DUAL TONE AIR HORN TRUCK HORN SOUND
118 Decibels-415/450 Hz
AIR POWERED - produces a powerful
"BIG RIG TRUCK" Sound. Two (2) durable red plastic
trumpets. Easily installs in any 12 volt vehicle.
The compressor is heavy-duty and is maintenance
free with a bright chrome plated finish.
Comes complete with all mounting hardware.
Instruction in English / Spanish.
Trumpet Size:
Short Trumpet - 11 5/8"
Long Trumpet - 12 1/8"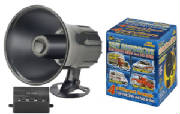 365 THE ENFORCER™
ELECTRONIC SIREN & AIR HORN SOUNDS
One touch of the keyboard sounds your choice
of three (3) different emergency sirens;
(Police Wailer siren, Fire Truck High-Low,
siren Ambulance Euro siren) or a
powerful truck air horn sound.
The Enforcer is the use to attract immediate
attention with it's powerful 20 watts of sound.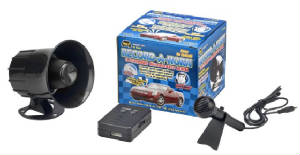 375 / RECORD-A-HORN™
RECORD & PLAY BACK YOUR
FAVORITE SONGS AND SOUNDS
Wolo's new RECORD-A-HORN™, is a horn
that has been designed to record
30 seconds of your favorite song or sounds
with the simple press of a button.
Record by using either the microphone
provided for voice recording or the
wired jack to connect to CD player,
radio and etc. Recording a song or
sound is easy and only takes seconds.
You can change the recording anytime
and as many times as you want.
Produces a powerful 20 watts sound
controlled by a built-in on/off volume
control. Ideal for any 12-volt vehicle.